Career as a Youtuber Is a Good Online Business Option in 2023. There Are Many Ideas to Generate Revenue From Youtube, but There Are Only a Few Articles on Youtube Channel Growth. Everyone Wants to Start Their Own Channel, but They Do Not Have the Proper Ideas to Grow It.
In This Post, We Will Discuss All the Best Methods, Which You Can Follow to Grow a Youtube Channel Fast. There Are Different Types of Methods Like Paid, Free, Social Media, and Many More. 
We, Will, Discuss All the Best Methods and Then You Can Choose Any of Them and Implement them in your Channel.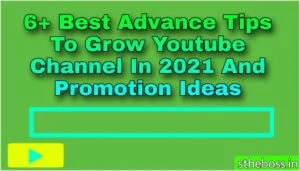 Create the Best Channel in Your Category and use Organic Methods
Youtube Is One of the Leading Video Content Platforms in the World. You Can Join It for Free and Watch Different Types of Video Absolutely for Free. There are Many Types of Videos on Youtube Like Comedy, Tech, Tutorials, News, Funny, Gaming, and Many More.
The Consumption of Youtube and Video Content Is Getting High Day by Day. It Opens Multiple Opportunities for Viewers and Publishers Because It Is Free for All.
You Can Start Your Career as a Youtube and Generate Revenue From It. To Generate Revenue From Your Youtube Channel, You Have to Grow It First. You Need Both Subscribers and Views for Your Channel Growth.
There Are Multiple Methods to Grow a Youtube Channel in 2023, and It Will Help You No Matter if You Are an Absolute Beginner or a Pro-One. There are Different Types of Methods to Grow a Youtube Channel and, All the Best Methods Are:-
1. Find the Best Skills to Learn
Develop Different Skills to Create the Best Youtube Channel for Your Viewers. There Are Many Types of Channels on Youtube Choose Any of Them and Create Better Video Content, Otherwise, You Can Create a Channel of Your Interest.
If You do Have Not Any Skills Then You Can Develop Different Skills to Start a Channel. Different Skills Helps You to Create Multiple Video and, It Will Help You Reach More Viewers.
2. Choose the Right Niche
You Cannot Upload Multiple Topic Videos in One Channel, So You Have to Choose a Niche for Your Channel. This Will Help You to Get a Loyal Audience. You Can Choose Any Popular Niche Like  Comedy, Vines, News, Cooking, Tech, Vlog, Gaming, Review,s and Many More. 
You Can Also Start a Youtube Channel as Per Your Interest or Hobby, Like Dancing, Business, Blogging, Singing, and Arts. There Is Also a Good Potential in It.
A Good Niche Help You to Get Regular Visitors and You Can Use Them for Your Channel Growth and Brand Development.
3. Find Different Topics in a Niche and Create a List
Learn Keyword Research, and Find Low Competitive Keywords in Your Niche. Multiple Keywords Help You Create Multiple Videos in Your Niche. Find the Low Competitive Keywords and Make a List of Them.
Try to Find Low Competitive and High CPC Keywords. Explore Your Niche and Focus on Competitors. Provide Better Quality Videos as compared to the Competitor.
4. Create Quality Videos
After Niche Research and Keywords Research, You Have to Create Videos. If You Not Any Investment, then You Can Start Your Channel With a Smartphone. Many Apps Can Help You to Create Good Video With Your Smartphone.
Provide Valuable Information in Every Video, This Will Help the Viewers to Engage With the Video.
5. Be Regular and Consistent
Punctuality and Regularity Is the Key to Success. You Have to Be Regular and Consistent at Your Work. You Have to Struggle for a Few Days, but if You Work Hard and Be Regular With Your Channel, Then You Can Get Success.
Upload 4 to 5 Videos in a Weak for a Better Growth and Reach. Set a Time for Video Upload, This Will Help You to Get Organic Reach on Youtube and, There Is a Good Chance of Viral the Video.
6. Use Best Keywords for Organic Reach
There Are Many Benefits of Learning Keyword Research. It Can Help You to Rank Your Videos on Youtube Search Engines, Viral Your Video, and Help to Get Good CPC. Try to Find High Traffic and Good CPC Keywords as Per Your Niche.
These Are the Tips to Create Good Videos and to Grow Your Channel in 2023. Before Starting Your Channel, Work Hard and Do Experiments and Research According to Your Niche, This Will Help You Better Understand.
Promotion & Growth Ideas for Youtube Channel
Only Creating Good Video and Keyword Research Would Not Help You Grow Your Channel, You Have to Promot Your Channels for Better Growth on Different Platforms.  You Can Create Different Social Media Profiles as Per Your Channel Name and Promote Your Videos.
There Are Different Methods to Promote Channel for Better Growth. The use of Both Paid and Free Methods Will Help Your Channel to Get More Reach and Subscribers. You Can Use Any of Them for Your Channel Promotion. Both of Them have Their Advantages.
a. Use of Multiple Social Media and Sharing
There Are Millions of People Who Use Social Media, and You Can Use Them to Drive Traffic for Your Videos. Create Your Channel and Promote and Share Video Regularly. Create Social Media Accounts Like Facebook, Instagram, Twitter, Reddit, and Pinterest.
There Are Certain Rules for Video Promotion on Social Media. You Have to Work Organically to Get Reach on Social Media. You Can Post 4 to 5 Content Daily to Get Organic Reach on Social Media.
b. Paid Methods to Reach the Right Audience
You Can Use Both Free and Paid Methods to Grow Your Channel. If You Want to Get Subscribers or Views Quickly, Then You Can Use Paid Methods. Here You Have to Invest Some Amount to get Reach. Mostly Brands and Businesses Use these Methods to Promote Their Products and Services.
In Paid Method, You Can Get a Targeted Audience as Per Your Need. There Are Many Advance Targeting and Analytics Tools You Can Get in Paid methods to Monitor Your Videos. 
There Are Many Paid Methods to Promote Your Video. You Can Use Different Advertising Platforms to Promote Your Videos Like Facebook Ads, Bing Ads, Instagram Ads, and Many More.
Conclusion
Continuous Video Upload and Quality Content, Help to Grow Your Channel. Make Yourself Motivated and Focus on Providing Quality Content to Y the Users. It Takes Time to Grow a Youtube Channel but if You Work Hard, Then You Can Easily Get Success.
Learn, Explore, and Create Best Thumbnails for Your Videos. This Will Attract More Viewers to Your Channel. If You Are Looking for More Posts on Youtube Growth, Then Visit Other Posts on This Site.