A village or Rural Area is the Basement of Any Country That Make the Country Strong Inside, in Terms of Economics, Art and craft Culture, or Natural Resource.
That's Why Every Government Focuses on Growing the Villages in Every Country Because It is the Pillar of Growth.
Our Government supports local Businesses for Better Development and Introduce Multiple Government Schemes for the Growth of the Village Business.
If You Want to Start a Business in a Rural Area Then It is the Right Time to Get the Opportunities and Start a Business With the Help of Government Support.
Here in This Post, We Have Selected All the Latest Small Business and Mid-cap Business Ideas Which You Can Start in a Village or Rural Area With Very Low Investment.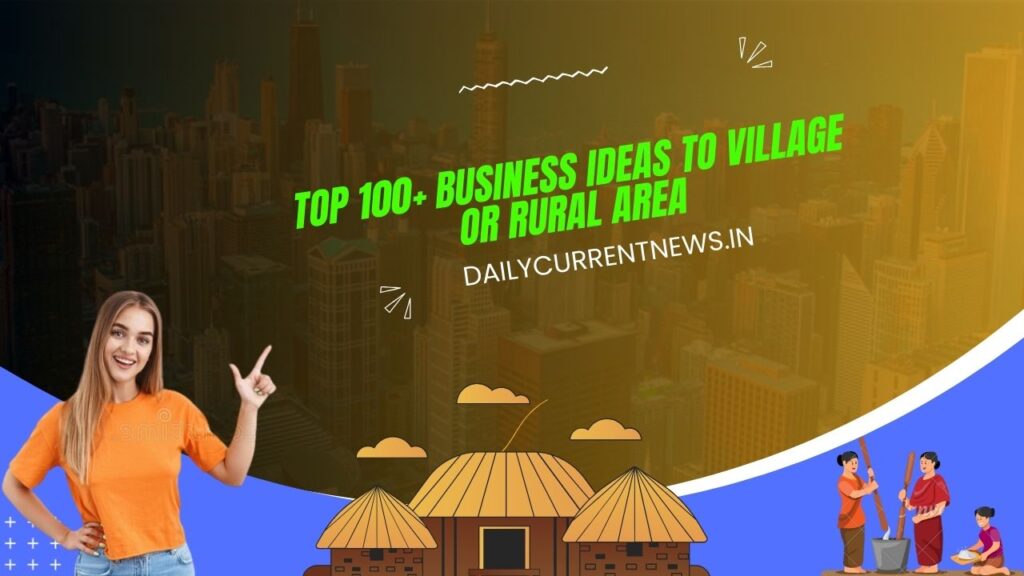 Most People Went to Town to Work as a Labor in Different Companies or Industries.
So There is a Very Lack of Competition When It Comes to Starting a Business in a Rural Area if You Are Reading This Then It is the Best Time to You to Start Your Local Business, and Enhance Your Career as an Entrepreneur.
The Taste of Village is People is Quite Different
Market Demand and Opportunities
In India, the Government Supports the Rural People and Helps Them to Start Their Own Business
in the Scheme of Atmanirbhar Bharat Yojna. By Using It People Can Take Loan From Banks With a Very Low Interest Rate.
So if You Are a Villager or Want to Start a Small Business in Your Village or Small Town Then You Can Apply for Agriculture or Manufacturing Business to Start Your Business From Your Home Town.
How to Start a Start-up Business in a Village Area-
People in the Village, Use Different Old Methods to Start All Types of Business Like Manufacturing Business, Agriculture Business, Bee and Honey Making, Milk/dairy Center Etc.
If You Are an Entrepreneur and Want to Start a Business in a Village or Rural Area Then, You Can Use Different Machines or Use Different Processes That Will Enhance or Increase Production Capacity, Reduce Time, and Give More Profitability With Low Investment.
By Doing This Not Only You Grow Your Business but Also Helps the Rural Area to Grow and Helps the Local People by Introducing Modern Technologies.
That is the Real Entrepreneurship.
Local Business Ideas in Village in India 2023
Retail Store | Kirana Shop
It is One of the Most Profitable Local Businesses Which You Can Start in 2023, It is One of the Most Successful Small Businesses Which You Can Start.
It Needs an Investment to Start a Retail Business and You Have to Choose a Right Location and Start the Shop in a crowded location.
It is a Great Mid Cap Small Business That Will Definitely give you High Returns in the Near Future.
Organic Farming
Farming is Yet Another Most Traditional Business, Which You Can Start With a Low Investment.
It is One of the Most Traditional Agriculture Businesses Where People Cultivate Rice, Wheat, Vegetables, Sugar Cane and Many More.
Rather Then Money Investment It Requires Human Resources to Make the Maximum Profit for the Business. You Can Take Small Business Loans to Start This Business and Find the Best Place That is Suitable for Farming.
Bee Keepers/poultry/live-stock Farming
Start Any Type of Farming Business Yet Another More Profitable Traditional Small Business Which You Can Start as a Start-up and Use the Latest and Modern Technology to Get the Maximum Profit.
To Start Any Livestock or Poultry Business You Can Take a Farming Loan From the Government.
There Are Many Govt. Schemes From Which You Can Get Monetary Support for Your Business Growth.
For the Development of Small Farmers Government Also Provide Bees, Small Chicks, Seeds, and Many More, From Which You Can Take Benefits for the Better Grow and Run Business Smoothly.
Fertilizer/pesticide Store
Starting a Fertilizer Business is Yet Another Profitable Local Shop Business Which You Can Start With a Little Investment.
More the 70% of People in the Village Depends on Farming Business and for Farming It Needs Pesticide, So Starting Low Investment Fertilizer Business in a Market Place is Highly Profitable.
Tutor Services
Everyone is becoming aware of Education and Wants to Give Proper Education to Their Children
Rather Than Schooling, People Believe in Tutoring for the Better Enhancement of Their Children, So if You Have Some Educational Knowledge Then You Can Start a Tutoring Business.
This is a Most Demanded Thing in Rural and People Believe in Personal Tutoring for Their Children and They Pay Per Hour.
Agricultural Loan Consultancy
More Than 70% of the People in the Village Depend on Agriculture and They Do Different Agricultural and Cultivation Like Rice, Wheat, Vegetables, and Many More.
Also, Many People Depends on Livestock Businesses Like Different Type of Animal Feeding and Growing Them Like Hen, Duck, Fish, and Many More.
To Start Any of These Businesses, It Needs Investment and Many Farmers Looking for an Agriculture Loan, You Can Provide Local Farmer Agriculture Loan Consultancy Within a Bank Reference and Work as a Broker Between Farmers and Banks.
There Are Many Private and National Banks, Who Provide Loan to the Farmers at a Affordable Interest Rate.
Milk/dairy Center (Create Milk Products)
Starting a Diary Business is Yet Another More Profitable Business That Requires a Low Investment and You Can Start It Without Having Any Prior Skills in Your Village.
You Can Start Different Diary Business Like Cow, Buffalo, Sheep, Goats and Many More. It is One of the Most Profitable Small Business Where You Can Make Money From Multiple Sources.
Sell Milk, Curd, Paneer, Ghee, and Many More Milk Related Items in the Local Area or Across the State or Country With Proper Branding.
Cattle Feed Business
The cattle Feed Business is Growing Rapidly in the Village Area as Per the Demand for Cattle and the Growing Price of Cattle Day by day.
Most of the Middle-Aged Women in Rural businesses start Cattle Feed Business and Grow Cattle Within 6 to 7 Months and Sale It At a Very Higher Price Bracket.
You Can Start This Business as a Small Startup, With the Proper Care of God You Can Take This Business to the Next Level
Agarbatti Making
Agarbatti Making Business is One of the Low Investment Small Business Which is Very Easy to Start and Require Very Low Raw Materials.
It Needs Some Human Resources to Start This Business and You Can Hire a Woman in the Village to Work in the Free Time.
Mostly Agarbatti is Used to to Worship God and Some People Also Use It to Make Their Home Smell Good.
Small Flour Mill
Starting Various Mills in a Village is a Highly Profitable Small or Mid-cap Business in 2023.
Most of the People in Rural areas are Farmers and They Are cultivate different Types of Grains.
Process the Grains It Needs a Mill, So It is an Evergreen Processing Business Which You Can Start With a Mid Cap Investment for the Processing Machine Installation.
Electronic Repair Shop/ Electrical
Electricity is Everywhere From Rural to Town and the Management of the Electricity It Require Electrician.
There is a High Demand of Electrician in Village Areas but Most of the Young People After the Village to Work in Industrial Areas.
You Can Start It as a Small Business With Very Low Investment and Provide Electrical Service to Different People in the Village.
If You Have Any Prior Knowledge Then You Can Start It, and Also Start an Electrical Store Where You Can Sell Various Daily Use and Consumer Electronic Products Like LED bulbs, Switches, Wires Meters and Others.
Grocery Store
Starting a Grocery Store is Yet Another Mid-cap Small Business That is Highly Profitable in the Village Area.
Start a Grocery Store in a Crowded Place in Your Village and Store Different Type Daily Consume Products by the People. It is also a Mid-cap Small Business and One of the Most Successful Small Business in Village or Rural Areas.
Rubber Exporting Business
Many People in Rural areas start Rubber Tree Cultivation and Process the rubber from the Tree, It is One of the Low Investment Business ideas Which You Can Start From Home Land.
It is One of the Most Profitable Small Business to Start in a Rural area and the Demand of Rubbers is Getting Very High as the Usability and Demand in the Market.
Medical Store
If you Have Any Degree or Medical Certification Then You Can Start a Medical Store in the Village.
Medical Store is Yet Another Most Profitable Small Business Which You Can Start With a Mid Cap Investment.
The Demand of Doctors and Medicals is very High and There Are Many Villages Where Medical Stores is Very Low, You Can Take This as a Business Opportunity and Start It as a Startup Business.
Oil Mills
Most of the People in the Village Are Farmers and They Do Multiple Farming for Their Living.
Many Farmers Only Cultivate Different Oils Seed Agriculture Like Mustard Flower, Pamolin, Soybean, Rice Bran, and Others, So Starting a Oil Processing Mill is Highly Profitable, and Ever Green Small Business Which You Can Start With a Low Investment.
Hand Woven Garments
The Arts and Crafts Culture Mostly Grows in the Village Area of Any Country So Starting Any Type of Craft Business in a Village is Very Profitable.
You Can Start Any Type of Handmade Product Business Like Hand Woven Government, Designs, Clothes, and Many More Which You Can Process in Your Village and Export to Different Countries and Sell to Outsiders
Rice Exporting Business
In India Most of People Depends on Rice Cultivation, Most People Depend on Cultivating Rice in Their Form Because It is One of the Most Consumed Food in India.
You Can Start a Rice Export Business With Very Low Investment in 2023, to Start This Business You Have to Deal With Local Farmers and You Can buy paddy Seeds From Them, With the Help of Processing, You Can Export Rice From It and Sell It With Different Brand Names as Per the Rice.
Training Business
If You Have an Idea in Any Skill, Then You Can Start Providing Training to Local People, It is One of the Best Educational Business that You Can Start With No Investment.
Many People Wants to Take Multiple Training for the Better Development of Their Farming and Small Business, You Can Them Good Training in Exchange of Money.
Top 10 Best Shops to Open in Rural Or Village Areas
Sweet shops

Tailor shop

Electronics shop

Saloon shop

Cosmetics shop

Two-wheeler/four wheeler mechanic

Fruit shop/juice shop

TV/Radio/Mobile mechanic

Electrical/plumber shop
Top 10 Best Local Business Ideas in Village Area
Food Shop

Milk/Dairy center (Creta Milk Products)

Cattle Feed Business

Retail store

Agarbatti Making

Flour mill

Electronic Repair Shop/ Electrical

Grocery Store
Top 10 Small Business Ideas for Rural Areas
Organic Farming

Small-scale manufacturing units

Poultry/live-stock farming

Fertilizer/pesticide store

Tutor services

Ice cream manufacturing unit

Wheat flour mill

Retail shop

Cattle Feed Business

Electronic Repair Shop
Local Business With Low Investment for Small Town or Rural Areas
Electrician

Tutor services

Food Selling Bsuiness

Local products Manufacturing

Repairing Business

Tutor services

Organic Vegetable Cultivation

Poultry Farming

Fishery Farm

Oil Mills
100+ Small Business Ideas To Start in Village
Establish a Grocery Store

Online Retailing

Small Manufacturing Business

Organic Food Products Store

Cashew Nut Processing

Production of organic produce

Poultry farm

Fishery

Open a flour/atta or oil mill

Start farmer consultancy business

Become a tuition/coaching entrepreneur

Enter into computer training business

Milk centre

Wholesale of Fertilisers

Drinking water supply

Retail shops

Start a e-rickshaw transportation business

Startup a jute bag making business

Set up a small scale slipper or flip flop making business

Flour mill

Threshing machine

Oil mill

Flower Farming

Freelance Writer

Independent Blogger

Auto Repair Shop

Open a fruits and vegetable shop

Start a small scale purified-drinking-water business

Set up a stationery shop

Tutorial Services

Home-Based Catering

Start a medicine shop

Start a salon business

Solar Energy

Handicraft

Tourism

Mobile Food Truck Business

Clothing Boutique Store

Artificial Jewellery Making

Food Delivery

organic fertilizers

Beekeeping

Production of fruit juice

Party Services

Address Verification Service

Gym

Daycare center/babysitting

Tiffin service

Jams, pickles, and sauces

Selling Farmers Produce In The Nearby City

Transportation Services

Farming Products & Equipment

Paper Shopping Bags

Candles

Portal for grocery shopping

Agriculture consultancy

Certified seed dealer

Herbal medicine farming

Dairy farming

Computer Training Institute

Cafes and Restaurants

Aquarium & Fish

Nursery & Garden Requirements

Potato Chips

Spice Manufacturing Unit

Namkeen / Snacks Manufacturing Unit

Detergent Powder

Coolant

Adhesives/ Glue

Automobiles

Health Care and Beauty Products

Furniture

Beauty Parlour

Candle Making
How to Start a Small Business in a Village Area (Rural Business Ideas)
Starting any type of business in rural area is not highly difficult or does not require higher certifications, with the proper knowledge you can start any type of business without any hesitation.
There are many small businesses you can start in village areas which are described in the post, many businesses require a little investment to start and to grow successfully, below we have shared a few steps which you can follow for starting any type of business in the rural area.
Check whether your business is fit for you or profitable for you.
Check the Market Demand

Find the Modern Process of the traditional Business

Your Intrest

Investment Plan

Profit Margin

Make Business Certified (If Required)
If you wish to start a business in a rural area for better development of the village facing the issue of money then you can take small business loans or apply the government schemes to get help from the government in terms of monetary or other help.
The Government of India always gives you a hand for rural area business development.
Conclusion (My Opinion)
So here is all the latest and best small business idea that you can start in rural areas or small town, you can also go with different startup Idea or use different machines which are people not aware of.
There are also many businesses in which you can explore your village's needs or the demand of the village and take your business to the next level in the rural area.
 if you are looking for more small business and more profitable business ideas then you can also visit other Posts on the site, we have added all New small business ideas for you.