Are You Searching for the Easiest Business Idea to Start, Then You Are at the Amazing Place Where You Can Start Different Types of Businesses According to Your Skills.
Of Course, There Are Different Types of Businesses Created Along With the Growth of Population, Some of Them Are Capital Intensive and a Few of Them Are Easy and Low Cost.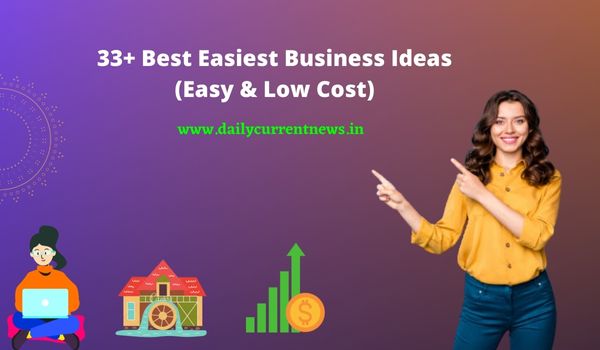 Working on Different Online Businesses and Service Based Business Are the Easiest and High Earning Potential Businesses That You Can Start.
Top 10+ Easiest Small Business to Start in India 2023
So if You Do Not Have Any Skills, Then They Are Many Online Platforms Where You Can Develop Different Types of Most Demanding Skills Like Programming, Blogging, Content Writing, and Others Which Will Help to Get Started with Your First Business.
There Are Many Easiest Online and Offline Business and You Can Find Them According to the Interest, There Are The Easiest, Demanding and Zero Investment Business, That Helps to Grow in Life.
Freelancer
Investment:- No
Income Potential:- Rs.10K- 50K+ Inr
ROI- 3-6 Months
If You Are Looking for a Part Time or Full Time Career Option Then Freelancing is Another Best Business Idea That You Can Start in Your Free Time.
Working on the Most Demanded Skills Will Help You to Get More Clients and Maximize Your Earning Potential.
Some of the Most Demanding Freelance Skills Are
Full Stack Web Development
Article Writing
Content Creation
Web Services
App Development
Graphics Designing
These Are the Most Demanding Freelancing Skills with the Growth of Online Businesses, So Many Business Owners Are Looking for Freelancers to Outsource the Work From Freelancers.
Pet Walking
Investment:- No
Income Potential:- Rs.7K+ Pm
ROI- 1-3 Months
People Love their Pet Animals So Much and Looking for Dog Walking Services as They Do Not Have Much Time Due to Working and Office.
So if You Are Looking to Make Extra Money Then You Can Start a Part-Time Pet Walking Business and Extra Money From It.
Easiest Business to Start with Low Cost
Cleaning Services
Investment:- Rs.7K+ Inr Apr.
Income Potential:- Rs.15K+ Per Month
ROI- 2-4 Months
Starting a Cleaning Service is Part Time or Full Time Option, That You Can Start With No Investment.
From Office Area to House There Are Many People Looking for Cleaning Services and You Can Provide Them This Service.
Bookkeeping
Bookkeeping Services is Another No Cost Beginner Friendly Small Business Idea, Many Small Businesses Are Looking for an Accountant or Bookkeeper to Manage All the Records of the Office and With a Good Calculation Skill, You Can Apply for Different Book Keeping Services for Small Businesses.
Proof Reading
Many Companies Pay to Find Grammar Mistakes and Spelling Mistakes While Reading a Book, So if You Have the Skills of It, Then You Can Work with Many Companies and Report Mistakes to Them.
Delivery Service
There is a Huge Growth of Online Ecommerce Business as People Like to Purchase Products From Fruits to Vegetables.
It Requires a Delivery Service to Deliver Anything to the Customer's Door House, So Starting a Small Scale Delivery Business Holds Great Potential You Can Start With the Young People in Your City.
Handyman
If You Have Skills Like a Plumber or Conducts Basic Maintenance on Various Works of Home, Then You Can Start a Handyman Business and Help People to Repair Plumbing Systems, Fixing Equipment, and Home Appliances to Ensure They Work Properly.
You Can Start This Service Based With Less Than $1000 and Earn Money on Session Basis or Work Basis.
Cab Driver
You Can Become a Cab Driver and Help People to Reach They Are Destination, With the Proper Documentation. There Are Many Online Travelling Startups Where You Can Join and Get Customers in Your City Easily and Earn Money as a Cab Driver.
Easy to Start Online Business Idea to Start in 2023
Online Business
Starting a Work From Online Business Has a Great Business Opportunity as the Growing Use of Online Business.
It Opens Many Opportunities for Housewives, Students, and Also for Business people, Some of the High Earning Online Business Ideas Are Influencers, YouTubers, Blogging, and Freelancers That You Can Start From Home and Get Clients All over the Globe.
Social Media Influencers
There is a Huge Opportunity on Becoming a Social Media Influencer and Make Money by Collaborating With Brands and Sponsors.
There is a Huge Growth in the Social Media Platforms as the Launch of the Short Video Format.
So Start a Career as Freelancers and Create Content and Upload on Different Social Media Platforms Like Youtube, Facebook, and Instagram.
Become a Youtuber
Starting a Youtube Channel With Selected Topics Will Help You to Grow Very Fast and Make Money With Fewer Subscribers and Views Which Comes Under Unique Business Ideas as of Its Future Scalability and Demand.
Some of the Best Youtube Channel Ideas Are:-
Personal Finance
Blogging
Crypto
Banking, Loan & Credit Cards
Stocks and Trading
Affiliate Marketing
The Consumption of Video is Growing Rapidly is the Growing Speed of the Internet So Starting a Niche-Based Youtube Channel is Another Unique Small Business Idea.
Become a Tourist Guide
There and Many People Wants to Explore Your City and You Can Help Them by Becoming a Tourist Guide and Charge Them on Travel Basis.
So If You Have Good Knowledge in Speaking Different Language Then You Can Become a Tourist Guide.
Low Cost Online Business Opportunities to Start
Online Tutoring
If You Like to Teach People and Students, Then You Can Start a Tutoring Service.
It is About Full Time or Part Time Career Options to Teach Your Younger Students and Also Sign Up for Different Online Educational Platforms and Help Students to Prepare for Different Exams.
Course Selling
Product and Services Selling Business One of the Most Profitable Business Both Online and Offline and When It Comes to Education Then They Are Multiple Opportunities to Make Money by Teaching People.
If You Have Any Particular Skills or Like to Teach People Under Students, Then You Can Teach People Online With the Help of Different Platforms as Well as Create Many Pre Recorded Courses and Sell Them to the Students.
Painting & Selling Online
If You Like to Draw Paintings Then You Can Also Sell Them Online and Make Money From Them, Sending Online Painting is Another Easiest Small Business That Require Zero Investment to Start.
You Can Use Different Online Commerce Platforms Square You Can a List Your Paintings and Sell It Without Any Worry.
Pet Cleaning & Grooming
The Pet Care and Training is a Good Business Idea, If You are Animal Lover, Many People Looking for Pare Services for Their pet Animals Like Cat, Dogs, and Others.
So if You have The Idea of Pet Grooming, Training, and Cleaning, Then You can Provide This Service As Well.
Automobile Washing
Auto Cleaning is Another Easiest Small Business That You Can Start With a Very Low Investment, in the Growing Automobile Industry. The Demand of Many Small Service Based Businesses Related to It and Washing is One of Them.
So That Starting Small Automobile Washing in Road Side or Crowded Place in Your City to Get More Customers Easily, You Can Also Provide Detailing and Services Also.
How to Work On Easiest Business Ideas in 2023 (Step By Step Guide)
With a Good Research We Find Out All the Best Cheap Easy Business to Start That Comes Under Easiest Small Business Along With Startup Ideas That Helps From Teenagers to Old People to Work on With Basic Skills.
From Online to Offline Business We Have Added All the Best Easiest and Most Profitable Business to Start in 2023 That Comes With a Few Investments, Hard Work, and Also Part Time.
So Find the Best Small Business Ideas Which Are Cheap and Easy Business to Start Both Online and Offline.
Conclusion
There Are Many Easiest and Cheapest Business Ideas, Which You Can Start to Make It Profitable, Any One Can Work on These Easiest businesses to Start With No Money, Which Is Part Time, Easy to Start, and Holds Good Earning Potential.
There Are Many Low Costs and Easy to Start Business Out There but Most of Them Have the Issue of Scalability, Revenue, and Growing in the Future. Anyone Can Work on the Easiest and Most Profitable Business to Start With Low Cost and Holds Great Earning Opportunities and Scalability.
So Find the Top Easiest Businesses to Start Which Also Come With No Money and Help to Grow as an Entrepreneur With a Hardwork and Planning.